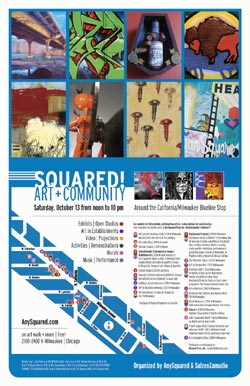 AnySquared Projects organized, executed, curated, produced and created the 2012 SQUARED! Art+Community art walk.
Squared! was a celebration of what happens when a community defines itself by the people who live and work together, rather than by wards and neighborhood names. Squared! featured 130+ artists in a collection of exhibits, open studios, installations, videos, murals, activities, music + more created by and for our community.
• Photos from the 2012 event!
• exhibits, open studios, and activities
• participating artists
• map/schedule (pdf)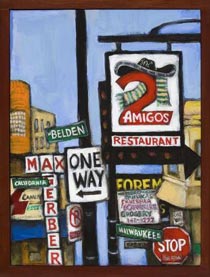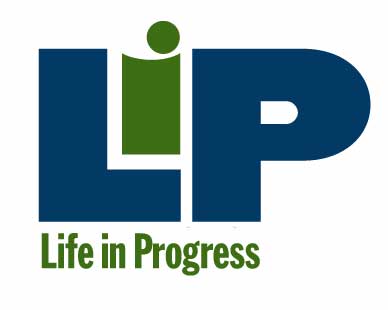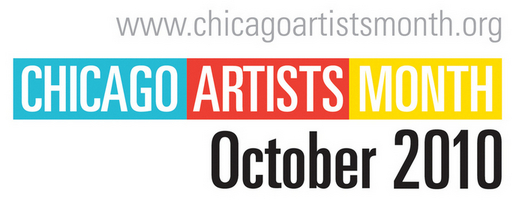 2010 | AnySquared organized the LIP (Life in Progress), an October 2010 art series that included 2 curated group exhibitions that featured about 35 artists, a short film/video event that highlighted 10 independant filmmakers, and a participatory public art studio day.
LIP was one of 12 selected featured programs highlighted out of 100s during Chicago Artists Month 2010
---
LIP (Life in Progress)
Chicago Artists Month 2010.
AnyPlace Opening photos on flickr
Unfinished Opening photos on facebook
NE2's Installation photos on facebook
2010 | AnySquared ended a busy year with the Logan Square Holiday Art Sale & Winter Celebration. We invited our neighbors to create a 2 block art event: an art sale that showcased over 25 artists, exhibits at Hairitics and Revolution Brewing, window installations at Logan Square Kitchen and Threads Etc, open studios at Sulzen Fine Art Studio and AntiMatter, and crafts at Cafe Mustache!
2008–2009 | Founders of AnySquared also organized 2008 and 2009 Holiday Art Sales in the Logan Square neighborhood making 2010 the third year!
---
2010 LS Holiday Art Sale
LS Holiday Art Sale photos on flickr